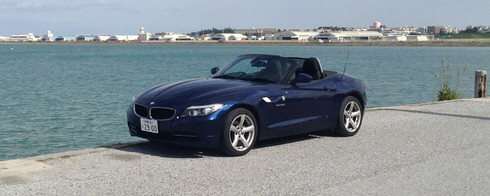 I went to Okinawa in late March.
Because I had a spring break, I was worried that it might be difficult to even get an airline ticket, but I was lucky enough to apply for a cheap tour. At the same time, on the homepage of "
okinawa speed rent-a-car
", which I found online, I had a reservation for "
BMW・Z4
", so I made a reservation immediately.
It was about to get warm seasonally, so when I thought that I could drive Okinawa with an open car, I could not wait for the day of departure.
When I arrived at Naha Airport on the day of the trip, I was able to warm with just one T-shirt. Even in March, Tokyo is still cold, so you can feel that you have come to the southern country. After all southern country is good.
From Naha Airport to "
okinawa speed rent-a-car
", get on a pick-up car and arrive.
It was appreciated that the employees were kind enough to respond. And get on to "
BMW・Z4
". Immediately, in the open car style, drive to the World Heritage site, Nakashiro Castle. It became roundabout, but without using the Okinawa Expressway, it was a drive using National highway No. 58. Enjoy the wind and scenery of Okinawa and arrive at the Nakagusuku castle ruins.
It is the first time I came to Nakagusuku Castle. The scenery I saw after walking hard working with sweat was exceptional.
Because the weather was good, the sea was also beautiful. It is a world heritage.
After that, drive towards the submarine road again. Arrive at the submarine road entrance in about 40 minutes. I immediately run through in an open car at once. The sea is visible from both sides of the view! I understand why it is named the undersea road. Park at Road Park in the middle of the road. I could enjoy the scenery while taking a rest and walk down to the beach so I took a walk.
And I stopped by the station at the sea station Ayahashi-kan. It was about time when I was hungry, so I had lunch at Okinawa Soba. I ordered three buckwheat noodles. The price was reasonable and very delicious.
After lunch, when I was looking for a souvenir, I found something I liked (a snack of sake). Smoke Island Island. As soon as you buy one and eat it, it looks like smoked cheese. I was just so happy because I was just dad. delicious. After buying some for souvenirs, I leave for Heianza Island. When you enter Heianza Island and pass the entrance to Hamahiga Ohashi Bridge, stop at the parking lot of Bronger Cafe & Yamashita. I heard that natural yeast bread is famous, so I bought Nuchi Anpan and Melon Bread. Honestly, I think it is not a popular price, but it is delicious than the price.
Especially nuchipanpan. The brown sugar-flavored anko was exquisite.
Then, cross the Hamahiga Ohashi bridge, enter Hamahigajima Island, and arrive at Hotel Hamahigashima Resort. I was driving honestly from morning, and walked more than I expected, so I was tired honestly. But when you enter the room, the ocean view room! A beautiful scenery that blows away your fatigue. The large windows allow you to enjoy the view from within the room. As we had a little time to dinner, we had smoked soba dofu which we purchased at the station at the sea station and toasted with Orion beer. After all I would like to buy some wine and I would like to reflect on it.
There was no place to eat in the vicinity of the hotel (I could not find it), so I ate dinner at the Okinawa regional cuisine restaurant Muruku in the hotel, but it was very delicious. Orion beer and awamori are really there for Okinawan food. After dinner, I sweated for a day in the public bath. I was in a very large bowl and was able to heal my fatigue.
The trip this time was blessed with weather, so I chose the open car and was correct. Also, I want to come next year (March, April) next year. There was still a car that I wanted to ride on the "
okinawa speed rent-a-car
" I used this time, so I would like to use it next time. I'm really thankful to you.